Rent a mobile home in the Alps
The rentals have been arranged for your greatest comfort with a breathtaking view of our beautiful Alps mountains in the Ubaye valley.
The mobile homes are installed on large shaded plots of about 200m² with a parking space next to the rental.
Rentals at Campsite Le Fontarache are fully equipped with at least two bedrooms with covered terraces and chairs for everyone. The mobile homes range from 1 to 6 people from 23 to 35 m².
You love the warm atmosphere of the campsites and the direct contact with the nature of an outdoor hotel. That said, you would like to stay in a comfortable accommodation and preserve your privacy during your campsite holidays in the Alpes-de-Haute-Provence with family, friends or couples. Who said there was a need for comfort and friendliness? The campsite Fontarache in the 04 offers mobile home rentals that will allow you to spend a comfortable holiday at the foot of the alpine mountains, and this at the best price.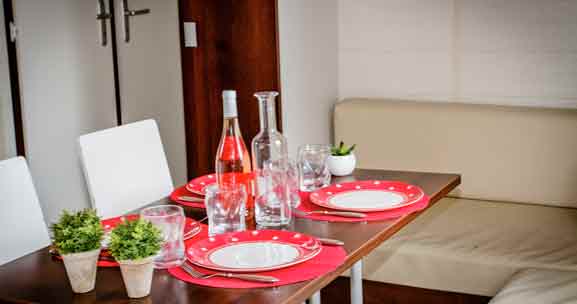 Mobile homes from 23 to 35 m² near Barcelonnette
From the mobile home to the cottage to the caravan, campsite Fontarache offers several models and ranges of mobile homes that bring your stay in the Provençal hinterland the pinch of comfort and zest of luxury that you have the right to wait at your vacation spot.
Our accommodations are located on large plots of about 200 square meters in the heart of Mercantour. You can park your car near your rental and have your own private garden. Like all our campsite and caravanning pitches in the PACA region, our mobile homes are shaded and marked by hedges.
Our mobile homes, whose surface varies between 23 and 35 m2, can accommodate up to 6 people. Despite their compactness, their modern finish and excellent layout make them welcoming and functional spaces. Most of our accommodations have a kitchen equipped with crockery and equipment (hotplates, fridge freezer, microwave, coffee maker, kettle), two or three bedrooms (blankets and pillows provided), a bathroom with separate WC and a garden furniture (with tables, chairs and chairs). For you the stay mobile home any comfort in Provence.
Mountain huts and caravans in the Mercantour
The Confort + chalet is a pretty wooden building inspired by the mountain chalets of the Alps. With its three bedrooms are a mezzanine, it will delight your children for its special charm and authenticity.
The caravan is ideal for couples traveling with a toddler who have a limited holiday budget. Its large awning and garden furniture will allow you to have an outdoor living space and covered in Les Thuiles. Please note that this room does not have a kitchen.
Access for people with reduced mobility, locations, arrival and departure times, campsite hours, inventory, inventory, equipment, bedding, baby bed, animals, electricity, hot water, heating, air conditioning, security, taxes stay, deposit, cleaning, booking fees, late arrival service… Would you like more information about our mobile home rentals in the Alpes de Haute Provence? Contact us and we'll help you find the right accommodation for your needs and your budget!